Tripping over Fee Splitting? Find out the Truth About Fee Splitting in Medical Practice
Fee-Splitting in a Medical Practice and What You Need to Know
When running a business, finding the information about what you should do compared to what you can do is difficult. We are going to explain what fee-splitting is in a medical practice and how it happens in the medical world.
Do you have other physicians who are friends? Do you think their work is great, so you always refer your patients to them? Well, be careful. If you take profit from your friend who is a physician when you send a referral you could get sued or worse—lose your license!
We are going to explain the California law on physician's fee-splitting in California. We want to cover the basics, so you know how to move forward with your medical practice and referring physicians you like.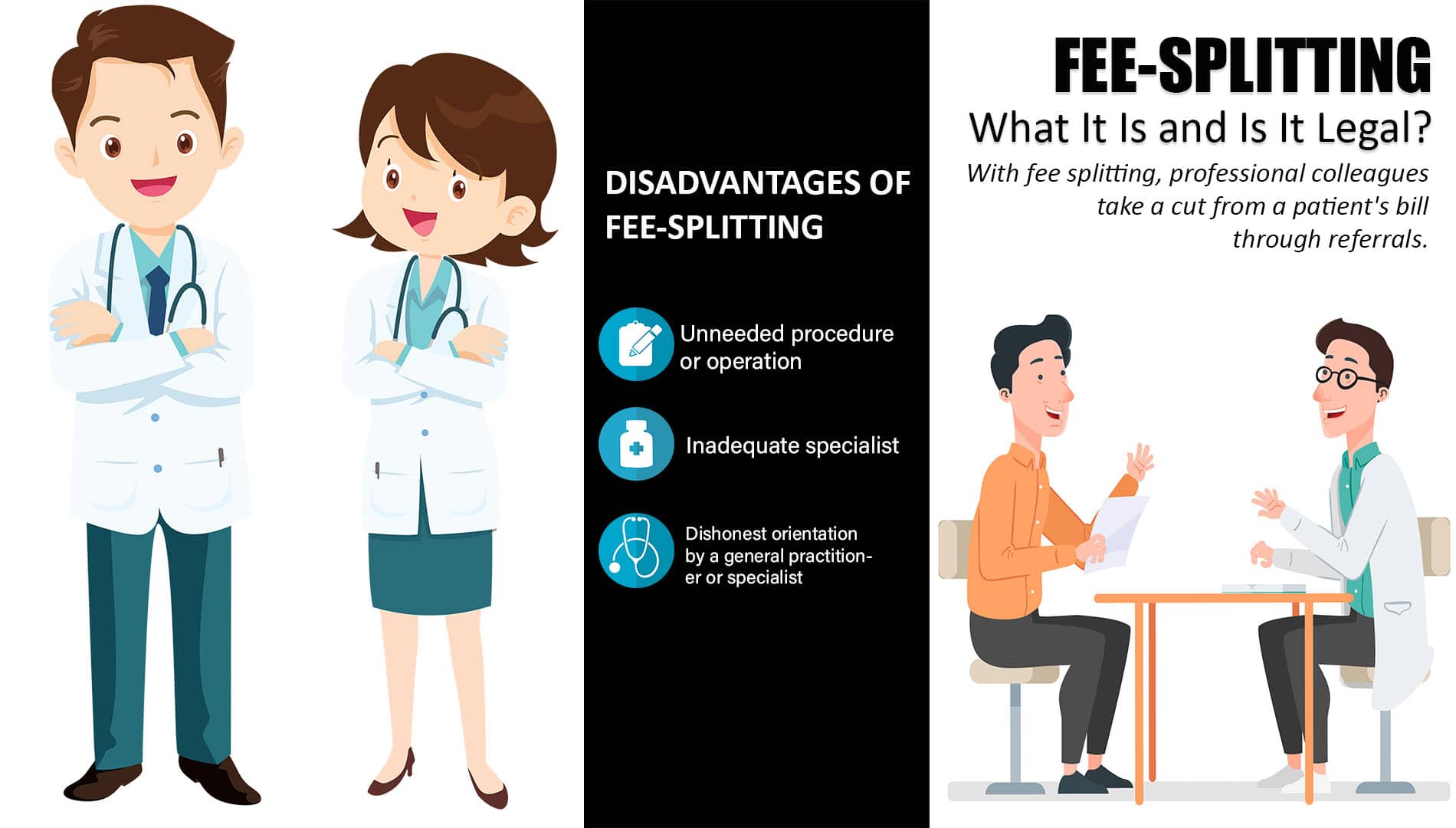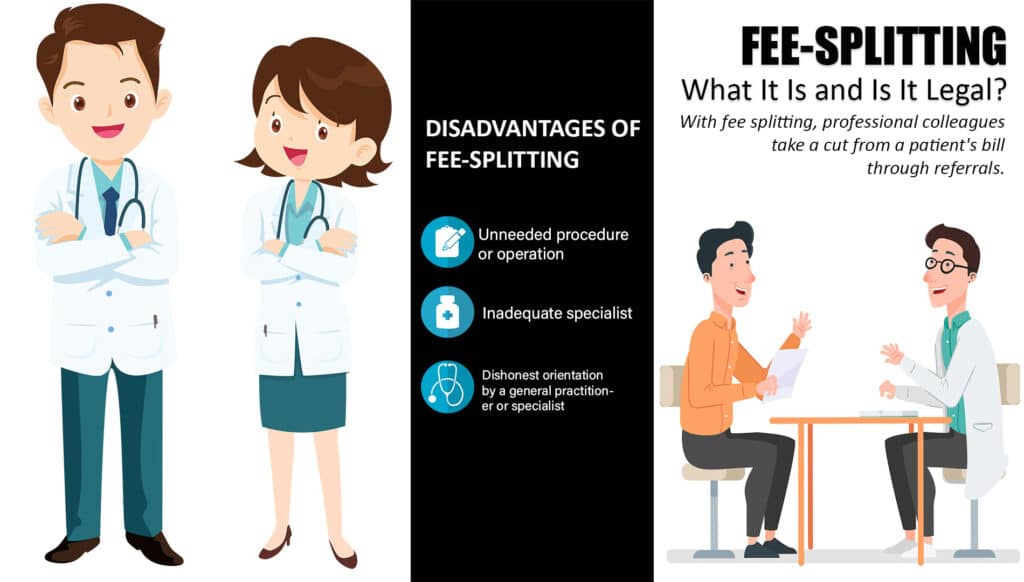 So, What is Fee Splitting?
Fee splitting is when professional colleagues, in this case, medical professionals, share fees for sending patient referrals. To clarify, this means when a doctor refers a patient to another doctor, both doctors receive a cut of money from the patient's bill.
In the medical world, fee-splitting is worrisome because it can put the patient in unnecessary harm. Some harms could be:
Unneeded procedure or operation
Inadequate specialist
Dishonest orientation by a general practitioner or specialist.
If you are friends with other physicians, like we mentioned before, and always refer your patients to them, and you also receive monetary compensation from your fellow physician from the patient's bill, that is fee-splitting. And this issue has arisen many times that California has come out with a law against fee-splitting. All for the protection of the patient and your work.
What About Physician Fee Splitting in California?
Fee splitting is banned in California medical practices. It is also banned in other states. Some states have different laws for medical professionals profiting from and controlling medical practices.
Here below are the California laws about the fee slitting arrangements. These laws come straight from the source to discuss anti-fee-splitting so it is great to rely on. We want you to get it from the source.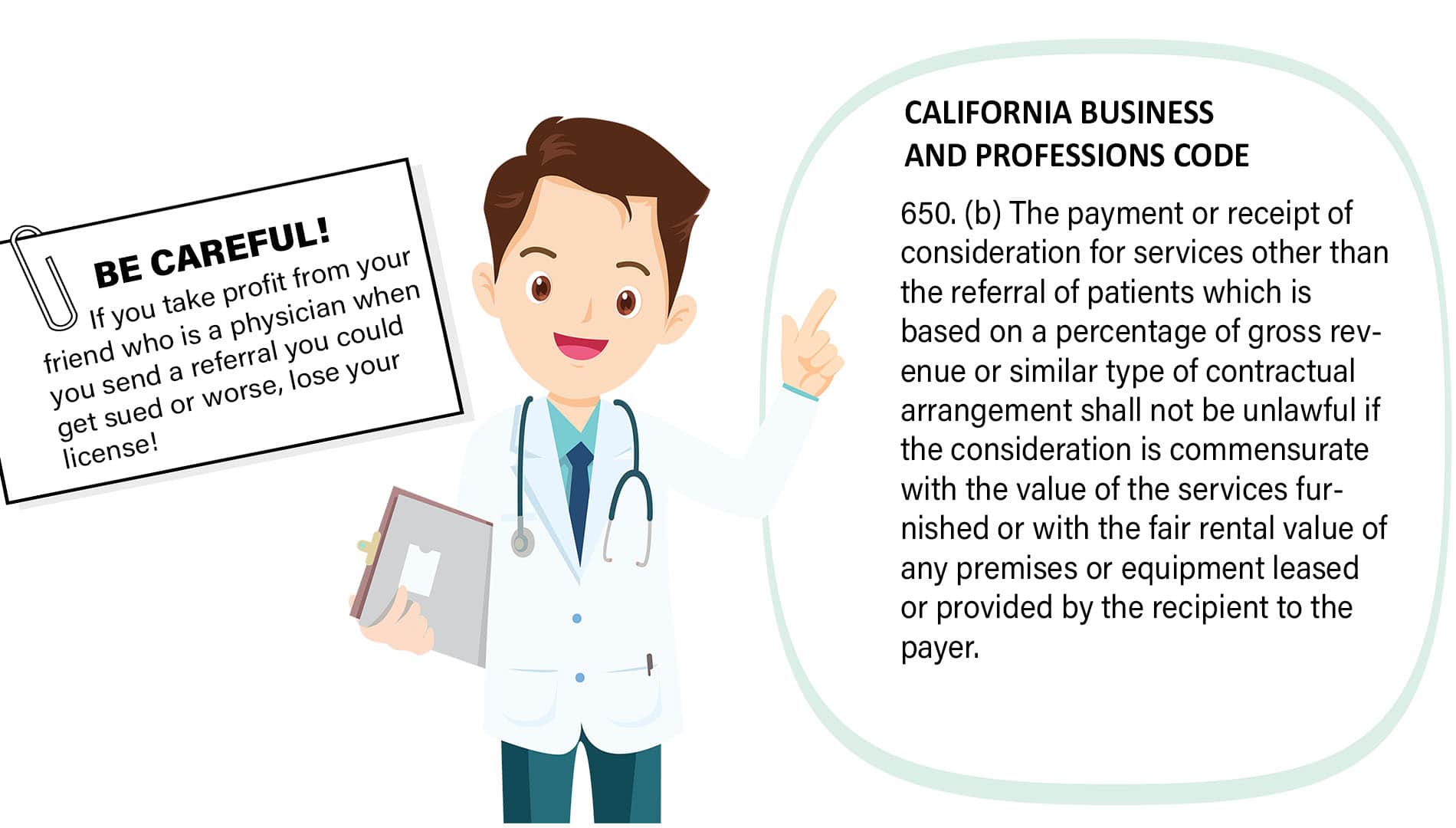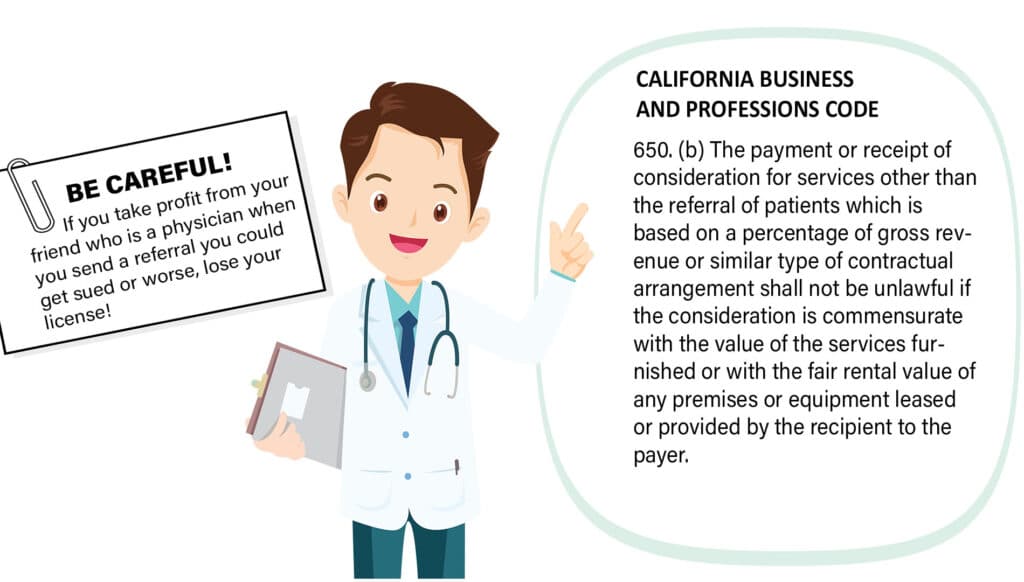 California Law Clarifying Fee Splitting
California's anti-fee-splitting ban is rooted in Section 650(a) of its Business and Professions Code. The statute prohibits physicians and other licensed professionals from offering or receiving rebates, refunds, commissions, or other considerations, as compensation or inducement for the referral of patients, clients, or customers to any person.
The statute does allow payments or other consideration made or received for services other than patient referrals to be based on a percentage of gross revenues so long as the "consideration is commensurate with the value of the services furnished or the fair rental value of any premises or equipment eased or provided by the recipient to the payer."
Often, management companies charge fixed, flat fees out of an abundance of caution and where the physicians provide services under the managed practice to federally funded beneficiaries.
Here is the California law excerpt.
650. (b) The payment or receipt of consideration for services other than the referral of patients which is based on a percentage of gross revenue or similar type of contractual arrangement shall not be unlawful if the consideration is commensurate with the value of the services furnished or with the fair rental value of any premises or equipment leased or provided by the recipient to the payer.
Examples of Fee Splitting in a Medical Practice
An example of fee-splitting is if a physical therapist refers a patient to an orthopedic surgeon because the surgeon promises 15% of the patient fee to whichever licensed professional refers a patient to him. This causes an issue because this licensed professional, the orthopedic surgeon, may not be the best suited for the patient. This is bad news for the patient because the medical professionals do not have their best intentions for the patient and are not putting the patients' needs first. This could potentially harm this patient and other patients in the future.
What To Keep in Mind About Medical Fee Splitting
Fee splitting is not legal in the state of California. To protect the patient and to protect the licensed professionals, we advise staying away from this form of referrals and stick to putting the patient first. For the safety of the patient and your career.
If you are considering to still refer your patients because another physician has given you a monetary incentive regarding the patient's bill, you now know what your answer should be. Tell them, "I will find which physician works best for their needs." Now that you have read California Statutes you should rest assured that you know what is required of you regarding your patient referral.
Now you are able to move forward with your medical practice with the knowledge of what fee-splitting is and what California has to say about it. Do you still have questions about fee-splitting? Do you have new questions about your professional medical practice? Contact us here and we will answer your about why a professional medical corporation is the right choice for you as a physician in California.