Professional Medical Corporation Name Requirements in California: Things you NEED TO KNOW
Like many professionals today, you may be inclined to open your own professional medical corporation. However, setting up your medical business is not an easy task. Although the formation process may vary, deciding the business name is always the first step. It must be something that accurately represents your products or services, and is not similar to another existing business name. There are other important requirements aside from this, which we will discuss further in this article. 
Professional Medical Corporation: An Overview
A professional medical corporation is a corporation that centers on providing medical-related services. This is created under California state law, which regulates and legalizes physicians who want to practice their profession in a business entity.
Anyone who wants to form a professional corporation must adhere to the rules and follow a thorough process. If you are looking to build your own professional medical corporation, start with registering a business name.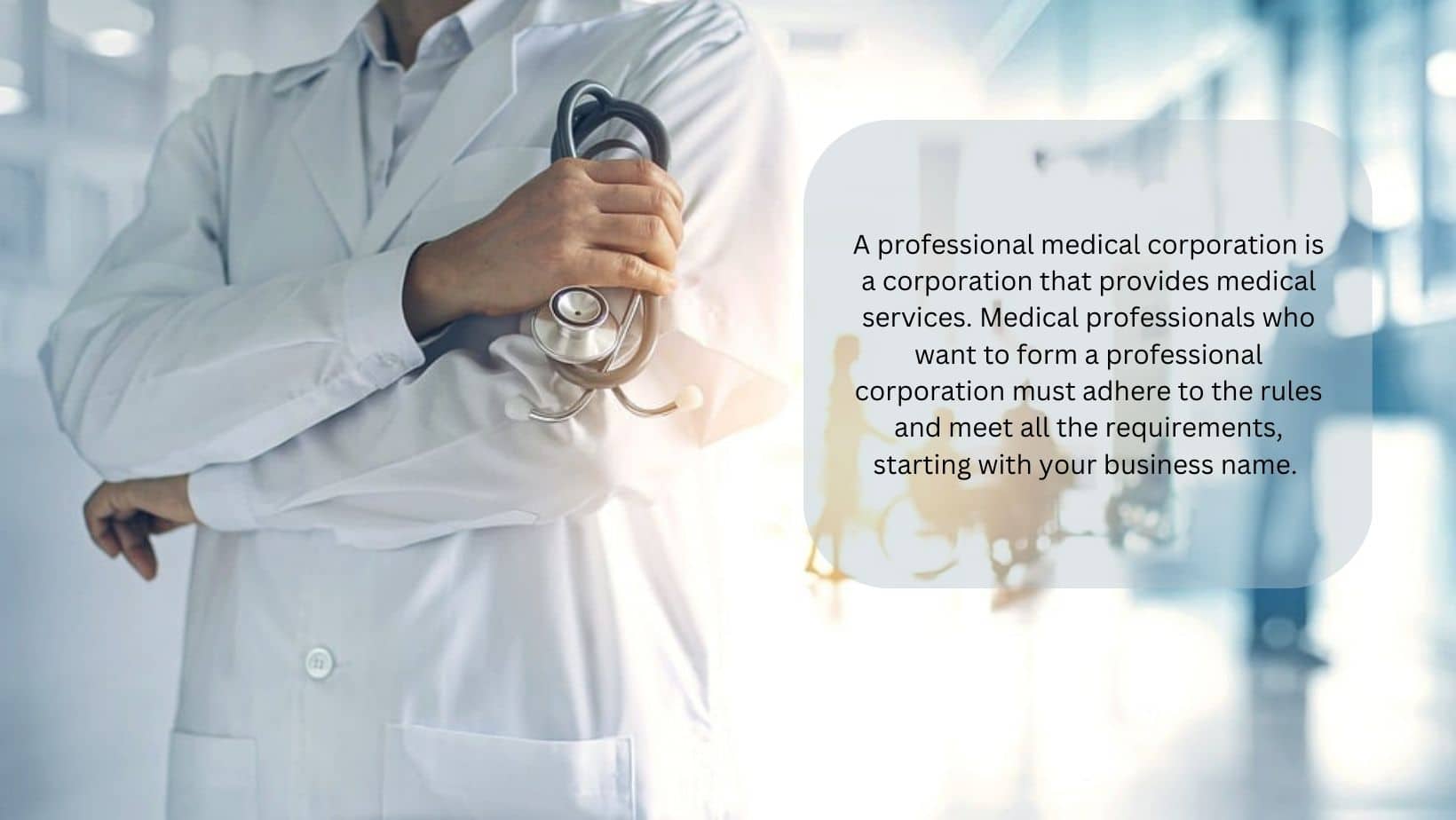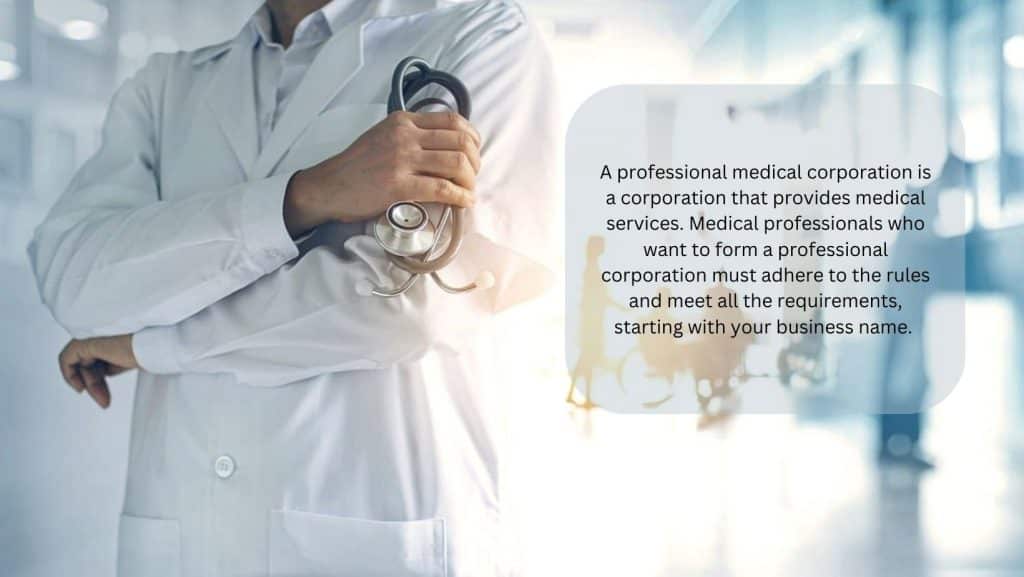 Business Entity Requirement for Professional Medical Corporations 
Medical practitioners have more advantages if they form a professional medical corporation than a sole proprietorship or medical partnership. However, the process is longer and more complex with conditions and requirements.
Instead of a Limited Liability Company (LLC), businesses providing professional services through a corporate structure in California must register as a professional corporation. With medical corporations, the shareholders must be licensed medical practitioners and they own and run the business.
Whether you are a long-time entrepreneur or a newcomer in the medical business, the processes and requirements will be best understood with the help of an attorney. Ideally, seek the help of an expert in medical corporations to make sure that your business follows the rules and regulations set by California State laws.
Fulfilling the Professional Medical Corporation Name Requirements in California
Forming a professional medical corporation is a long and tedious process. But you can save a great deal of time, effort, and money if your requirements are complete and compliant with the California business laws. To give you an idea, here are the steps:
Naming Your Business
Registering a business name is the first step in setting up your professional medical corporation. This always precedes the drafting of the articles of incorporation. Naming your business may seem easy at face value, but this process could also be painstaking.
For general stock corporations, they must follow only two criteria for business names: 1) the business name should not be misleading to the public and 2) it should not duplicate another existing business name. On the other hand, professional medical corporation must follow the guidelines provided by the business professions code, the California incorporations code, the California code of regulations, and the state regulatory agency that issues professional medical licenses for practice. These agencies must all approve the corporate name you choose. Otherwise, you will end up re-drafting your corporate accounts.
It is highly recommended to go through all the regulations with an attorney to avoid delays caused by missing important legal restrictions.
What are the Consequences of Non-compliance?
These agencies are strict in implementing the business name rules. Some corporations may have slipped through the cracks and operate against the regulated business name ideas. Corporations that will be caught in violation of the rules may face suspension or termination.
Basic Name Style Rules for Professional Medical Corporations?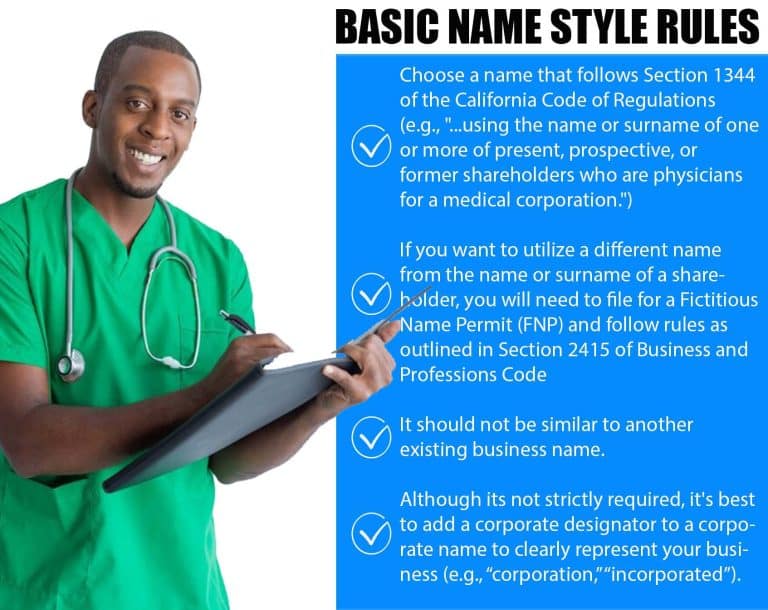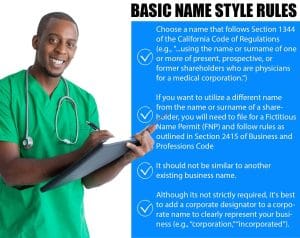 Operating a medical business in California is one thing, and registering it is another. The rules and regulations must be strictly followed to avoid complications. There are rules and regulations to follow beginning with the professional medical corporation name requirements in California:
Medical professionals who own a professional corporation must limit their corporate names to the owners' or shareholders' names.
The business name must contain the abbreviations or corporate designation (e.g., "corporation," "incorporated").
A professional medical corporation has the option not to use surnames for name style unless it's operated by practicing surgeons and physicians as shareholders, directors, and officers. This means you cannot add "pediatric corporation" if most shareholders are physicians and surgeons.
It can be a little tricky at the beginning, so if you are in doubt, have an expert business lawyer guide you through this.
What are the Professional Business Name Requirements in California if Operating Under a Fictitious Business Name?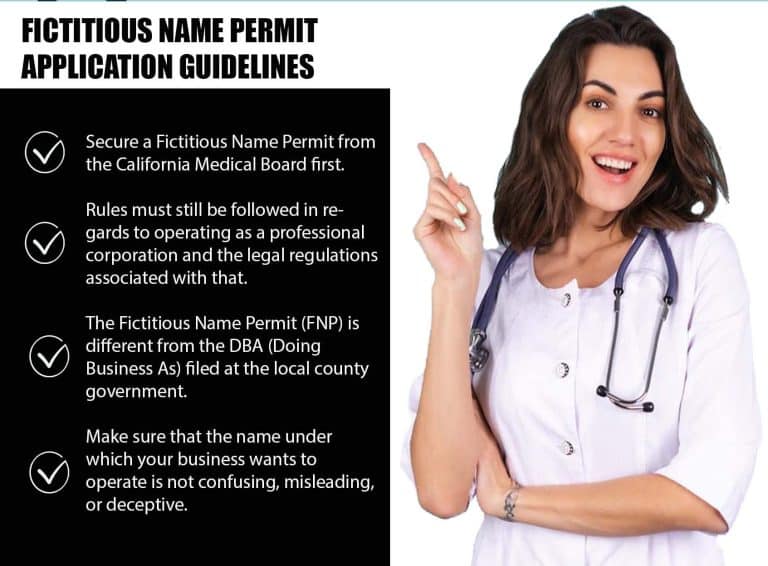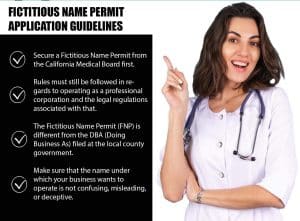 Professional medical corporations can also operate under a fictitious, false, or assumed business name should you decide to be a bit creative. It would be best to secure a permit first from the California Medical Board to do this.
You can take the name of one of the corporation's shareholders as the official business name, for example, James Johnson Medical Corporation or James Johnson MD. It's a professional business name idea with the shareholder's surname, the same name found in his medical license.
Keep in mind that this permit is different from the DBA filed at the local county government.
Form Your Professional Medical Corporation Right
The professional medical corporation's name requirements in California are just the first part of a long and tedious process. The following steps in forming a corporation involve more paperwork and legwork that can be off-putting for non-experts.
The help of an attorney can help you go through the process smoothly. A business attorney will guide you through the legal procedures and make sure your documentation complies with California business laws.
Our veteran business lawyers are available at your service. We have a team of legal experts who specialize in forming professional medical corporations in California. If you want to get a seasoned attorney on board to ensure you follow the process and submit the right documents, call us! You may contact our office at +1 (714) 634-4860. Visit our website and fill out the form, so we can get in touch with you right away.