Corporate Practice of Medicine – Facts, Exceptions, Structure, and Employment
A strong foundation of knowledge is the best start to planning a business. Educating yourself with the laws of your state will help you practice your profession the right way, and prevent future legal consequences like losing your license, repayment of revenues billed to patients, insurance companies, and other fines and penalties.
If you are a licensed or a non-licensed individual looking to start their own professional medical corporation, learn about your state's corporate practice of medicine.
What is Corporate Practice of Medicine?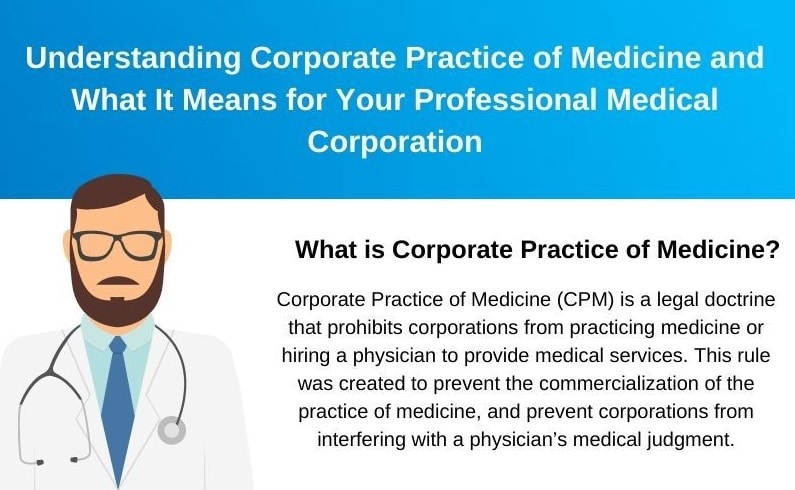 Corporate Practice of Medicine (CPM) is a legal doctrine that prohibits corporations from practicing medicine or hiring a physician to provide medical services. This rule was created to prevent the commercialization of the practice of medicine, and prevent corporations from interfering with a physician's medical judgment. While most states forbid the corporate practice of medicine, some exceptions vary by state, such as for professional corporations and employment through health care entities.
Corporate Practice of Medicine State Laws and Exceptions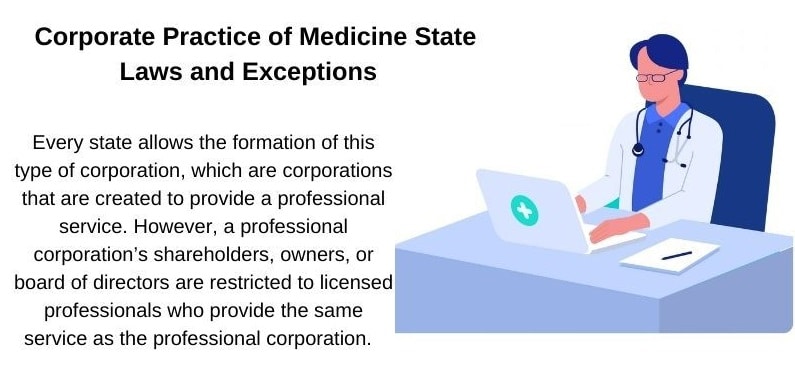 Though it's true that most states forbid corporate practice of medicine, it's a different situation for professional corporations and the employment of physicians by certain entities. Every state allows the formation of this type of corporation, which are corporations that are created to provide a professional service. However, a professional corporation's shareholders, owners, or board of directors are restricted to licensed professionals who provide the same service as the professional corporation. 
Professional Corporation's Structure Laws by State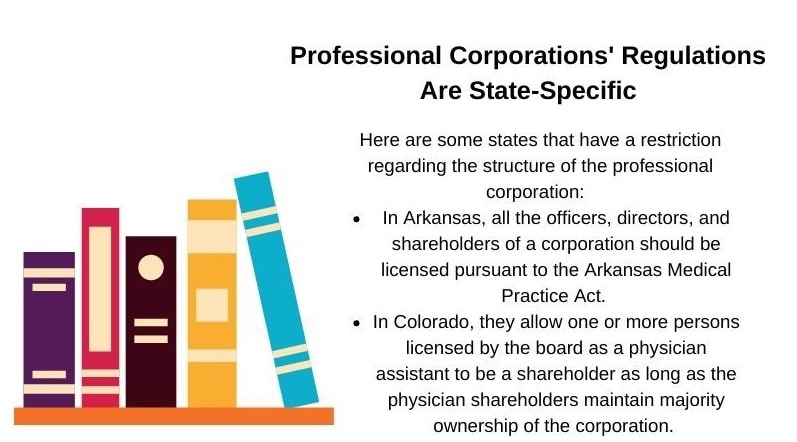 Here are some states that have a restriction regarding the structure of the professional corporation:
In Arkansas, all the officers, directors, and shareholders of a corporation should be licensed pursuant to the Arkansas Medical Practice Act.
In Colorado, they allow one or more persons licensed by the board as a physician assistant to be a shareholder as long as the physician shareholders maintain majority ownership of the corporation.
Additionally, some states like Rhode Island allow the creation of a multi-service corporation. Physicians, dentists, registered nurses, podiatrists, optometrists, physician assistants, chiropractic physicians, physical therapists, psychologists, and midwives or nurse-midwives can organize a corporation in which they engage in a combination of their services.
Employment of Physicians

There is also an exception for the employment of physicians by hospitals or clinics. While hospitals are allowed to hire physicians, they are prohibited from meddling or influencing a physician's medical judgment. In California, there are clinics or hospitals that may employ physicians as long as they "not interfere with, control, or otherwise direct the professional judgment of a physician and surgeon."  The same rule also applies to other states like Alabama, Louisiana, Indiana, and Illinois with a few rules that are state-specific. 
 Hire A Lawyer That Specializes in Professional Medical Corporation Today
What does the corporate practice of medicine mean for your professional corporation? Although the creation of professional corporations is allowed in every state, the doctrine of CPM still applies in separating medical and business decision-making. And as each restriction and rule vary by state, it can get confusing.
Professional Medical Corporation is here to provide an easy way to set up your professional corporation. If you are a licensed professional, we are prepared to help you get started with the right corporation. And if you are a non-licensed individual, there is no need to worry; we are available to discuss your options for you. Contact us now at +1 (714) 634-4838!